"New Lost Minneapolis Ramblers"
Featuring John Cohen, Spider-John Koerner,
Tony Glover and Paul Metsa,
plus The Brandy Snifters
$5 at the door.
This show is a production of MaximumFolk.com in
conjunction with Icebox Gallery and the YOUNG BOB
Photography Exhibition. Early photographs of BOB DYLAN
by John Cohen.
May 11th at Mayslacks Music Lounge
NE Minneapolis
7 – 10 PM.
Mayslacks Music Lounge
1428 4th St NE
Minneapolis, MN 55413
Map to Mayslacks
(612) 789-9862
See photos from the event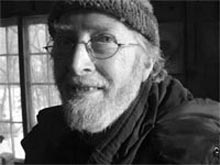 PHOTO BY H. CHRISTOPHERSON
John Cohen
founding member of the New Lost City Ramblers.
John Cohen is a talented musician who has received two Grammy nominations with his band, The New Lost City Ramblers. NLCR have recorded more than 25 albums of traditional music for Smithsonian Folkways, and together they have helped to shape the Old Time Fiddle and String Band movement that began in the 1960's.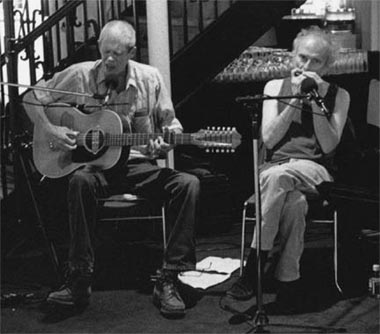 PHOTO BY H. CHRISTOPHERSON
Spider John Koerner is one of America's truest musical originals and one of the greatest practicianers of the traditional song. Spider John Koerner's musical career has taken him to stages throughout North America and Europe. He has entertained many and influenced several generations of musicians. His songs are recorded and performed by others, including Bonnie Rait-- I Ain't Blue. John Koerner is a frequent guest on Garrison Keillor's Prairie Home Companion.
Tony Glover authored several best-selling harmonica instruction manuals, worked as an all-night "underground" DJ, and spent time in New York as a music journalist for various magazines, including Rolling Stone, Crawdaddy and Circus. His notes for Dylan's LIVE 1966 album won the ASCAP Deems Taylor award. A Trio show in 1984 formed the foundation for his production: Blues, Rags & Hollers: The Koerner, Ray & Glover Story, a two-hour performance/documentary video. In 1987, he won the "Best Electric Harp" award from the Minnesota Music Awards. His collaborative biography of Little Walter will soon be published.
"Spider" John Koerner. Dave "Snaker" Ray. Tony "Little Sun" Glover. The names are legendary, and the seminal country-blues group they formed in the early Sixties influenced a musical era with its passionate treatments of rare blues stylings.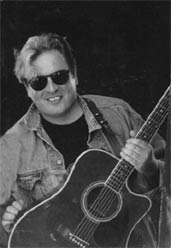 PHOTO COURTESY OF PAUL METSA
Paul Metsa is a songwriter, performer, and a recording artist. He works predominantly as a solo artist; however he has been a band leader in both acoustic and electric configurations, ranging from duo's to twelve piece ensembles. He has been the featured vocalist and lead guitarist in all of his bands. He is primarily a folk singer that writes and performs in a variety of styles including, but not limited to folk, blues, country, bluegrass, jazz, and rock and roll.