Icebox Gallery proudly presents b/w photographs of people by NYC photographer Erika Stone in her first solo exhibit in the Midwest. This very special exhibit will include many of Erika's most memorable "People" images made over her long career beginning in the 1940s.
Erika Stone's documentary photographs reflect her long, active career as a photojournalist and magazine photographer. In the 40's, Stone was a member of the legendary Photo League; an organization of photo documentarians, which she feels most, influenced her approach to her personal photographic work. It was during the years as a League member that she developed her interest in documenting people and at the age of seventeen, produced her Bowery series.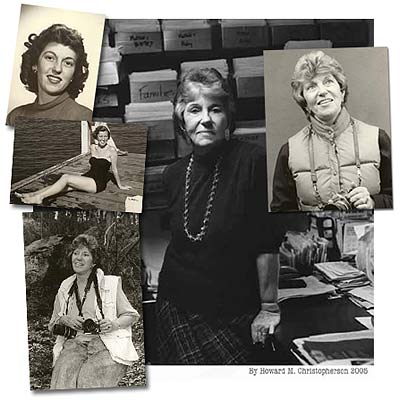 SHOW OPENING & ARTIST RECEPTION:
Saturday May 14, 8 pm– Midnight
Free and open to the public.
Exhibit continues through August 27th, 2005.
Although she considers herself mostly self-taught, she studied at the New School of Social Research with Bereniece Abbott and George Tice.
Stone was a stringer for both Time and Der Spiegel magazines and worked as a general photojournalist until 1960. After the birth of her two sons, she made photographing children and family her specialty. Her photographs have been and are widely published in magazines and textbooks around the world.
Her own books include Pro Techniques of Photographing Children, HP Publishing 1986, Tot Shots, a four book series published by Modern Publishing Company 1987, three books in the Walder Publishing Company's Open Family series: On Divorce, Fears and Phobias, The Adopted One. Nicole Visits an Amish Farm, Walker Publishing and Learning for Little Kids, Houghton Mifflin, as well asThe Whole Child by Putnam, were other of her titles.
Stone was one of twenty women photographers whose work was published in an anthology Women of Vision in 1982. Her pictures appeared in the US Camera Annuals 1952, 1954, 1955, and 1956. Her work is in the collections of the Museum of the City of New York, The International Center of Photography, George Eastman House in Rochester, The Portland, Maine Fine Arts Museum, The New York Public Library, and The National Gallery of Ottawa, Canada.
She has had one-woman shows at the New York City's Tanglewood Gallery in 1979, and the Neikrug Photographica in 1982. She had shows at Princeton's Nassau Gallery in 1980, at Photographics Unlimited in 1983 and in 1985 an exhibition called Serendipity at the Howland Center of Cultural Exchange in Beacon, NY. She also exhibited under the title Children of the World at the New York's Overseas Press Club in 1986. More recent shows include The Streets and Beyond at the Museum of the City of New York, Women of the Photo League at the Light Factory, Charlotte, NC and three exhibitions in Germany in 2001 at The Centralistitut fuer Kunstgeschiche in Munich, The Augustiner Museum in Freiburg and the Potomuseum Burghausen. During May/June 2001, her work was exhibited at the Lee Gallery in Winchester, MA. Recent exhibitions were Especially the People , National Arts Club, N. Y. C. May 18 - June 2. 2004 and an exhibition at the Soho Photo Gallery, Guest Gallery, N.Y.C. October 5 - 30, 2004.
She has won many awards for her work. She was one of the prize winners in Life magazine's Contest for Young Photographers in 1951. Her work is with a number of galleries here and abroad. Postcards of a number of her images were published by Photo Chronicals, Inc. and Fotofolio. The monograph Mostly People was published in 2001. Her monograph Especially the People self-published in 2003, and a digital book was published by Gryphon Verlag, Germany: Especially People/Einfach Menschen.