Sid Kaplan
ICEBOX GALLERY presents: A variety of works by NYC Photographer Sid Kaplan ranging from the fifties to the present.
See the Exhibit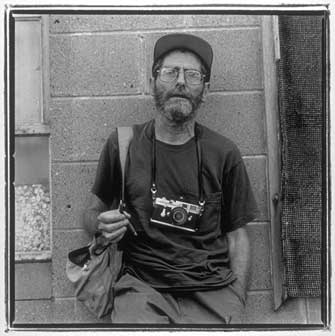 Sid Kaplan by Howard Christopherson
Sid Kaplan was born in the South Bronx of New York City in 1938. At the age of ten, he saw a black and white print develop in a darkroom. The experience hypnotized him and he began his life-long career of photographing and printing. Kaplan loves the hunt and the search for meaning that only street photography allows, and he is equally enamored with what he calls "the magic" of making a black and white print.
This exhibit has no particular theme, nor is it a retrospective. Instead, it is an eclectic mix of color and black and white prints created over several decades in New York City, Philadelphia, Minneapolis, and on the roads of America. The exhibit includes a variety of framed images along with several stereo pieces photographed in three dimensions. Kaplan refers to these as Œstereopticon experiments' because of the way they are made.
In 1952, Sid Kaplan began his only formal education in photography at The School of Industrial Arts, a NYC vocational high school. At the same time he was going to meetings at the Village Camera Club, which served as a refuge for members of the recently defunct Photo League. His first showing of his photography was there. At one of the photography trade shows he met Weegee for the first time and through fate, they would be running into each other till he died in 1968. After graduation, Sid began his career working in the photography industry. Kaplan paid his dues working at many dead end minimum wage photography jobs. After 6 years he had gained enough skill to be hired by Compo, a well-known custom lab in NYC. There he printed exhibition and book prints for several Magnum photographers; Philippe Halsman, Robert and Cornell Capa, and Weegee. There Kaplan met Ralph Gibson, who later introduced him to photographer Robert Frank. Kaplan began printing for Robert Frank that day, and still continues that relationship.
Sid Kaplan has told me that the biggest highlight of his career was the day when he took a break from the darkroom with Mr. Frank. The two of them walked to a local bar for a beer when they ran into another photographer who lived next door, W. Eugene Smith. They invited him to join them and they spent the evening together swapping stories and comparing their royalties from the Minamata and The Americans. "This reinforced my feeling that photography was best practiced as a gentleman's hobby like Lartigue or Steiglitz. I never wanted it to become just a job where editors' art directors and deadlines ruled; that would make me crazy and demoralized. Printing other people's work gave me the bucks to pursue my hobby and photograph what I want to without
Kaplan sometimes calls his photographs 'snaps'' a slang term from the forties. "If I never take another snap again I will still have more than I can print." Sid says with a smile. Images in the show are of people and places, some are shot from a moving car, resulting in blurred and grainy scenes of the road taken in various parts of the country. Other images included where made during repeated visits over the past twenty five years to a single Mummer's club in Philadelphia. Many places are now reduced to nostalgia and may be only a distant memory to the locals over the age of 60. interference." he says with a bearded grin.
Kaplan has visited and photographed here in Minnesota on several occasions since his first trip in 1972. Kaplan found himself interested in photographing many of the huge grain elevators that he encountered on his visits, several of these images will be included in the exhibit. In another MN image Kaplan caught the excitement of the moment in a wonderful snap of Harmon Killabrew signing autographs in a crowd of fans.
Kaplan is looking forward to his exhibit and visiting with many old friends and fellow photographers here in Minnesota.
ARTIST TALK: An evening with Sid Kaplan. Thursday, October 9th, from 7 - 9:30 PM. Hear the stories and preview this special exhibit while enjoying refreshments and hors d'oeuvres. Limited reservations. $25 per-person, couples $40. Make your advance reservation by phone or in person at Icebox. Visa and MasterCard accepted.
Opening Reception:
Friday October 10, 2003, 6:00 PM - 10:00 PM
Exhibit continues through January 17, 2004
Free and open to the public.
---