Icebox Gallery presents a collection of black and white images by Colorado photographer, Tom Quinn Kumpf.
Much like a dance charged with pulse and passion, these are images Kumpf took while following his dream to be a full-time photographer, images created during periods of his life when he had to work other kinds of jobs in order to keep the dream going. Working as he had to, and traveling when he could, this body of work spans nearly thirty years and brings Kumpf to the Icebox Gallery for the second time.
See the exhibit online
This body of work reflects a vision that is unique in its playfulness and diversity. His image, "Cuba Si," captures magic and motion, while "Near Whiteout" stops the viewer with a sense of space and silence. Likewise, the mood and mystery of an Irish stone circle is contrasted and complimented by images of birds that more resemble Japanese Sumi paintings than photographs. Treating film, chemical processes, and paper in a number of creative ways, Kumpf offers a collection that is both remarkable and enlightening.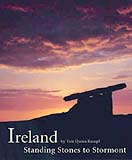 Tom Quinn Kumpf is the author of the award-winning book Children of Belfast, and a series of postcard books called Irish Images. His latest work, Ireland: Standing Stones to Stormont was published in 2004 and has already won several awards for written and photographic excellence.
His images have appeared in newspapers, magazines, and numerous other publications. He has exhibited his photographs in Holland, Belgium, Germany, Russia, Ireland, New York City, Seattle, Spokane, Miami, Minneapolis, Los Angeles, Columbus, Boulder, Denver, and Aspen Colorado. Books and images will be available for sale during the run of the exhibit. Kumpf lives in Boulder, Colorado.
Artist Talk: An evening with Tom Quinn Kumpf.
Friday, January 21st, from 7 – 9:30 PM
Hear the stories and preview this special exhibit while enjoying refreshments and hors d'oeuvres.
Limited reservations. $25 per-person, couples $40.
Make your advance reservation by phone or in person at Icebox. Visa and MasterCard accepted.
Opening: Saturday January 22nd, 8 – Midnight Free and open to the public.
Closes: March 5, 2005