Mending the Sacred Hoop
Images of Native America by Sarah Penman
ICEBOX GALLERY presents: Sarah Penman's images are drawn from a series of spiritual journeys on horseback, undertaken by the Lakota Nation and the Cree Nation. These rides are living history as traditionalist leaders work to build community through a reaffirmation of spiritual and cultural values.The exhibit of 35 black and white photographs includes seven platinum palladium prints published in a limited edition by ICEBOX. A portion of the proceeds will be returned to the native community.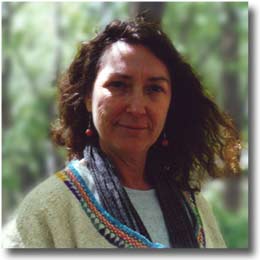 Photojournalist Sarah Penman
Sarah Penman is a Scot living in the United States. She has spent most of the past twelve years documenting the struggle for cultural and physical survival in native communities of the Northern Plains. She has been a recipient of fellowships from the Bush, McKnight, and Jerome Foundations, and has received grants from the Minnesota Historical Society, The Minnesota State Arts Board and the Minnesota Humanities Commission. A solo exhibit of her work was recently featured at the Durbin Gallery in Birmingham, Alabama and has been included in nationally touring exhibits. Her photographs have also appeared in a variety of national and international publications. She produced Honor the Grandmothers, an award-winning radio documentary on the lives of Lakota/Dakota women elders, and the Emmy-nominated documentary Nokomis - Voices of Anishinabe Grandmothers which aired on PBS in 1994. She is currently completing a manuscript Honor the Grandmothers which is scheduled for publication by the Minnesota Historical Society Press in the fall of 2000.
Kitchen Gallery: Special Guest Artist
Artists Reception & Opening, refreshments served.
Opening Reception : Saturday May 20, 2000 at 7:00 PM - 11:00 PM
Traditional Music Performed by the "Rising Hail Singers"
from Marty, South Dakota
Exhibit continues through August 26, 2000.
---